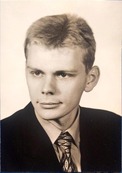 dr Łukasz Borowiec
Wydział Nauk Humanistycznych - Instytut Literaturoznawstwa
Katedra Literatury i Kultury AngielskiejStanowisko: Adiunkt posiadający stopień naukowy dr
---
Wypromowane prace dyplomowe
2019
Prace licencjackie
London's diversity in selected plays from the "Urban Scrawl" online audio drama project
The Motif of Escape in 'Troll' by Ed Harris and 'Only You Can Save Mankind' by Terry Pratchett
Character relations in Harper Lee's 'To Kill a Mockingbird'
Victorian morality in G.B. Shaw's "You Never Can Tell" and its BBC radio adaptation
"Elements of horror in Stephen King's 'Pet Sematary' and its radio adaptation"
The image of Latin American culture in selected children's books published in the USA
The figure of male and female detective in Agatha Christie's "The Mysterious Affair at Styles" and P.D. James's "An Unsuitable Job for a Woman"
Aspects of Women's Status in Early Modern England in Fantomina by Eliza Haywood
The myth of creation in C.S. Lewis's "The Chronicles of Narnia. The Magician's Nephew" and its BBC radio adaptation
Mother-daughter relationship in Vivienne Franzmann's "Ink Deep" and Becky Prestwich's "My Mother's Daughter"
Life-defining moments in the radio plays "The Sound of Roses" by Adrian Penketh and "Sleeping Dogs" by Steven Camden
Gothic elements in selected episodes from the ''The Man in Black'' series
"The motif of madness in B.A Paris's 'Breakdown' and Dave Simpson's 'Nightmares'"
The Poetics of the Thriller Genre in Radio Plays "Dr Jekyll and Mr Hyde" and "Demon Brother"
Elements of psychological thriller in "Gone Girl" by Gillian Flynn and "The Missing Wife" by Peter Whalley
Elements of detective fiction in A. C. Doyle's "The Hound of the Baskervilles" and its radio adaptation
Power struggles in C. S. Lewis's "That Hideous Strength" and its radio adaptation
2018
Prace licencjackie
Selected Shakespeare's plays in BBC School Radio adaptations
Obsessions and desires in two radio retellings of fairy tales: "The Red Shoes" and "White Snow" by Frances Byrnes
The motif of death in E.A. Poe's "The Pit and The Pendulum" and its selected radio adaptations.
The motif of the main protagonists' tragic fate in William Shakespeare's "Macbeth" and Oscar Wilde's "The Picture of Dorian Gray"
Aspects of narration in ''The Katniss Chronicles''
Aspects of Interpersonal Conflict in Three Contemporary Radio Plays
Aspects of narration in crime radio plays: Tony McHale's "Dead in the Water" and John Dryden's "Scenes from a Crime"
Approaches to Traditional Tales in Radio Dramas "The Forgotten" by Hattie Naylor and "Mustard Seed" by Nick Warburton.
The motif of revenge in Emily Brontë's "Wuthering Heights" and Joseph Conrad's "Victory".
The motif of isolation in "The Shining" by Stephen King
The Image of Greece and Greeks in "The Magus" by John Fowles and "The Bull beneath the Earth" by David Calcutt
"The vision of the world in Orson Welles' adaptation of H.G.Wells' "The war of the worlds."
Feminist literary theory and Margaret Atwood's "Handmaid's Tale"
Destructive power of love in Emily Brontë's "Wuthering Heights" and its radio adaptation
Compensation of Lack of Sight in Tom Sullivan's Autobiography "If You Could See What I Hear"
The motif of entrapment in Charlotte Brontë's "Jane Eyre" and its radio adaptation.
The motif of suicide in the radio plays "doyouwishtocontinue'' and ''Bridge''.
Alternative reality in "A Place Called Here" by Cecelia Ahern
Metafictional Elements in John Fowles' "The French Lieutenant's Woman" and its Radio Adaptation
"Portrayal of mental illness in K.R. Jamison's "An Unquiet Mind" and C. McCormack and M. Haynes's "The Shining Heart".
Portrait of the Rebel in Ray Bradbury's "Fahrenheit 451" and its BBC Radio Adaptation
2017
Prace licencjackie
Isolation and Loneliness in Charlotte Brontë's "Villette" and its BBC radio adaptation.
Elements of Dystopia in Divergent by Veronica Roth
Functions of sound effects in Orson Welles' radio adaptation of "The War of the Worlds" and Ed Hime's "Obey the Wave"
Characters' struggle with memories in "Come to Grief" by Hannah Vincent and "The Blind Man" by Alfred Hitchcock"
The portrayal of women in Anne Brontë's "Agnes Grey" and its BBC radio adaptation
Representations of the post-apocalyptic world in Cormac McCarthy's "The Road" and "Galaxy News Radio: The Adventures Of Daring Dashwood!
Aspects of love in selected contemporary radio plays
Memory, time and space in "The Dark Tower" by C.S. Lewis and "Bracing for the Sting of the Dark Tower" by Peter Gruenbaum
Elements of Celtic mythology and folklore in Melissa Marr's "Wicked Lovely" and David Calcutt's "The Otherworld Child"
"The portrayal of the femme fatale in "La Belle Dame Sans Merci" by John Keats and "IOU" by Jaden Clark : A comparison."
2016
Prace licencjackie
The Image of Prison in Bang Up by Sarah Hehir
Intertextuality in "Vampirella" by Angela Carter
Aspects of Tradition and Culture in Atching Tan: A Gypsy Wife by Dan Allum
Radiophonic representation of fear in Season 1 "We're Alive" by Kc Wayland".
The motif of parting in "My Life Is A Series Of People Saying Goodbye" by Dan Rebellato.
"Characters' choices in the radio adaptation of Marnie by Winston Graham."
Modifications of A. A. Milne's Winnie the Pooh series in selected animated adaptations by Disney
Images of Gods in "Alpha" by Mike Walker and "American Gods" by Neil Gaiman
Football ideology in Red Star Newport by Paul Jenkins.
Images of ghosts in selected plays from the BBC 'The Man in Black' series
The Concept of Evil In the Radio Adaptation of Lord of The Flies by William Golding
The Motif of Exclusion in "Kicking the Air" by Christine Murphy.
Aspects of characterization in "Blue Glory" by Hayley Squires
2015
Prace licencjackie
Relations among homeless people and their families in Tony Teardrop by Esther Wilson
Temptation as a Trap in the Radio Play "The Devil's Violin" by Lucy Rivers
Aspects of deafness in Early Warning by Richard Monks
The Process of Coming of Age in the Radio Drama "The Man with Wings" by Rachel Joyce
Womanhood vs. Girlhood in the Radio Drama "Educator" by Haley Squires
The Motif of Journey in ''The Hitchhiker'' by Lucille Fletcher
Radiophonic representation of Vampire in BBC Radio production of Bram Stoker's Dracula
The Search for Self-Identity in the Radio Play "Rock me Amadeus"
The Motif of Death in the Radio Drama "When the Night Has No Right to Be King" by John Lynch
Insanity as an Escape to Alternative Reality in the Radio Drama "The Shining Heart" by Conor McCormack and Matt Haynes
Means of Expressing Humour on the Basis of the Radio Drama 'When I Lived in Peru' by Andrew Viner
Prace magisterskie
Archetypes that People Live by in Selected Plays by Christina Reid and Marina Carr
Biblical Motifs In Selected Modern Rock Operas
Aspects of Violence in Selected Modern British Plays
Fantasy and Science Fiction in Contemporary British Radio Drama
Representations of War in Selected Modern British Plays
Elements of Naturalism in selected plays by H. Pinter and J.B. Priestley.
The Poetics of Plays by Sarah Kane - Theory, Application, Effect
The Role of History in Selected Modern British Radio Plays
Representations of Educational Process in Selected Modern British Plays
Gothic Elements in Selected Modern British Radio Plays
Manifestation of Emotions in Selected Modern British Radio Plays
2014
Prace magisterskie
Fears and Anxieties of Male Characters in Selected Plays by Steven Berkoff. A Psychoanalytical Approach.
Manifestations of Female Independence in Modern British Drama on the Example of Caryl Churchill's "Top Girls", Rona Munro's "Bold Girls" and Barrie Keeffe's "My Girl".
The concept of death in William Shakespeare's Hamlet and its adaptations.
Representations of violence in modern British drama: Harold Pinter 'The Homecoming', Sarah Kane 'Blasted' and Mark Ravenhill 'Shopping and Fucking'. A psychoanalytical approach.
"Women's Emancipation and Female Characters in Selected Post-War British Plays."
The Space of Home in British Plays of the 1960s: "The Caretaker" by H. Pinter, "Live Like Pigs" by J. Arden, "Chicken Soup with Barley" by A. Wesker. A Semiotic Approach.